New loco No.6 with loaded train at Gulch copper mine
The discovery in 1932 of a rich seam of copper in the high fells under the shadow of Mount Kanchenjunga eventually led to the sinking of the Gulch Mine at High Topps by the specially formed SADMC mining company.
Copper ore is loaded into SADMC private-owner wagons which are shunted into and out of the mine by flameproof battery-electric mining locomotives No.5 JACKIE and No.6 DOT.
The loaded ore wagons are taken down to the quayside at Horseshoe Cove and unloaded for onward shipment of the ore by sea.
The second battery locomotive No.6 with frames and electrical equipment supplied by Essel Engineering Ltd entered service in early Spring 2021. This engine will be named DOT after Dorothea Callum, one of the original precious metal prospectors.
Freight train timetables
Empties Horseshoe Cove to Gulch Copper Mine

| Station | M, W, F |
| --- | --- |
| Beckfoot (Engine Shed) | Dep: 14:45 Light engines |
| Horseshoe Cove (Quay) | Arr: 14:48 Light engines |
|   | Dep: 14:51 |
| Gulch Copper Mine | Arr: 14:55 |
Loaded Wagons Gulch Copper Mine to Horseshoe Cove

| Station | M, W, F |
| --- | --- |
| Gulch Copper Mine | Dep: 15:30 |
| High Topps (Stn) | Arr: 1531 |
|   | Dep: 15:35 |
| Horseshoe Cove (Quay) | Arr: 15:37 |
|   | Dep: 15:43 Light engines |
| Beckfoot (Engine Shed) | Arr: 15:45 Light engines |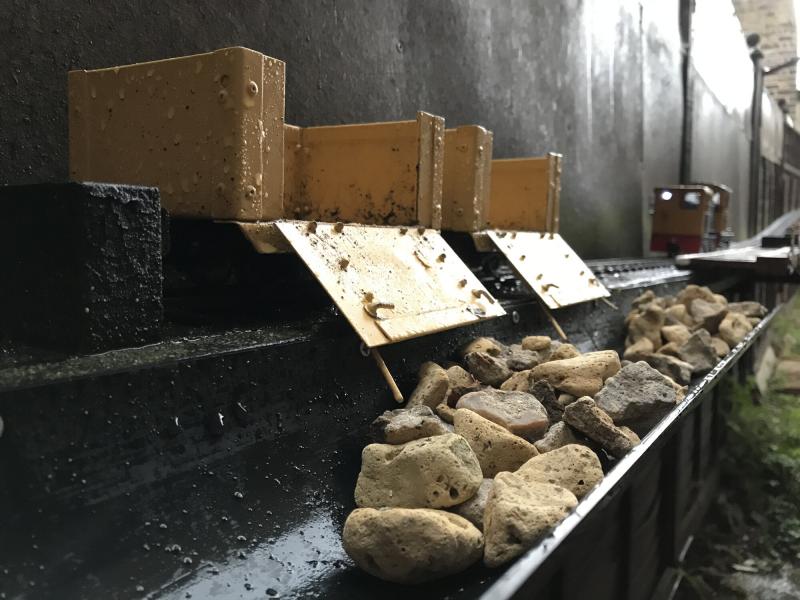 Unloading copper ore at Horseshoe Cove quay 6 May 2021
SADMC Mining locos 6 and 5 at Horseshoe Cove 6 May 2021