The Swallowdale Railway has two locomotive depots; the main shed at Beckfoot and a smaller outpost (sub-shed) located at Swallowdale. The main feature of the depots is that the trackbeds are of steel construction to minimise fire risks.
Beckfoot Shed
This depot has two engine roads and both are equipped with inspection pits, one of which is deep enough to allow fire lighting for any visiting spirit-fired locomotives. A Liquified Petrolium Gas (LPG) fuel dump is located nearby as are supplies of purified water, steam oil and engine oil.
This depot has recently been improved by the addition of an overall roof.
All locomotive preparation and disposal is carried out at Beckfoot i.e. fuelling, oiling, watering and used oil disposal after service runs.
Swallowdale Shed
This is a single-road facility located just past the end of the platform at Swallowdale. Locomotives are sometimes refueled and watered here as required. Battery-electric locos No5 JACKIE and No6 are often stabled here between banking duties.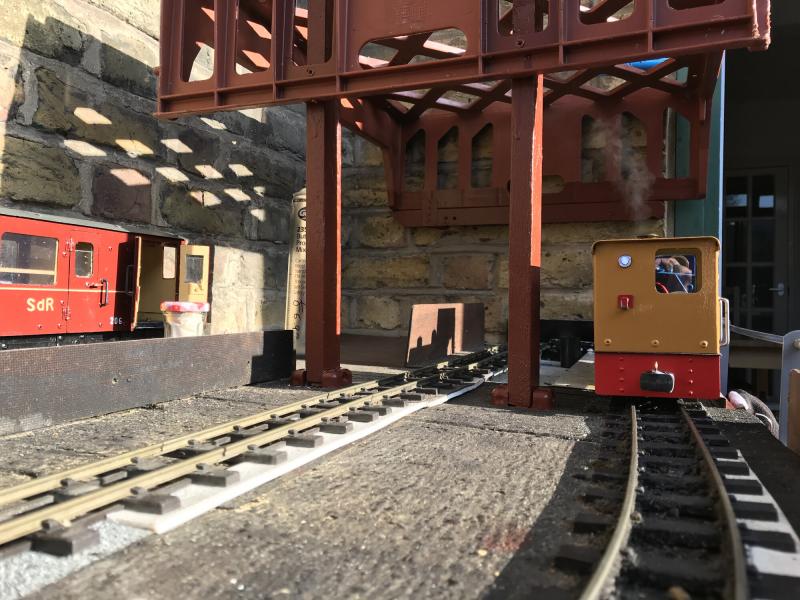 Beckfoot shed with new overall roof
Nos 6 and 4 on the inspection roads inside Beckfoot Shed
No6 rests at Swallowdale Shed
Nos 5 and 6 at Swallowdale Shed