The Swallowdale Railway was envisaged in 1932 for the transportation of copper ore from the newly opened Gulch copper mine near High Topps (Cumbria) down to the lakeside quay at Horseshoe Cove. From there the ore is transferred to sea-going vessels for onward shipment.
The mine itself resulted from initial gold prospecting operations carried out by minors from the specially formed SADMC firm, which were unsuccessful but which instead revealed a rich seam of high quality copper.
The line was built to a gauge of 32mm (1' 11.5'') and provides train services from the riverside town of Beckfoot on the Amazon estuary, up over the fells to the beautifully picturesque valley of Swallowdale. A major visitor attraction here is Peter Duck's Cave.
From Swallowdale the line drops down to sea level at Horseshoe Cove. Trains then reverse and climb back up to Swallowdale and thence via a steeply graded branch line to High Topps where there is a further branch to the Gulch mine.
Train services are operated by SdR steam locomotives, assisted by SADMC battery electric mining locomotives on the severe inclines of Swainson bank and the Greenbanks incline.
Gradients on the route vary between 1 in 25 from Beckfoot up to Four Firs, 1 in 16 between Swallowdale and Horseshoe Cove, and ultimately 1 in 14 on Greenbanks incline up to the summit of the line at High Topps.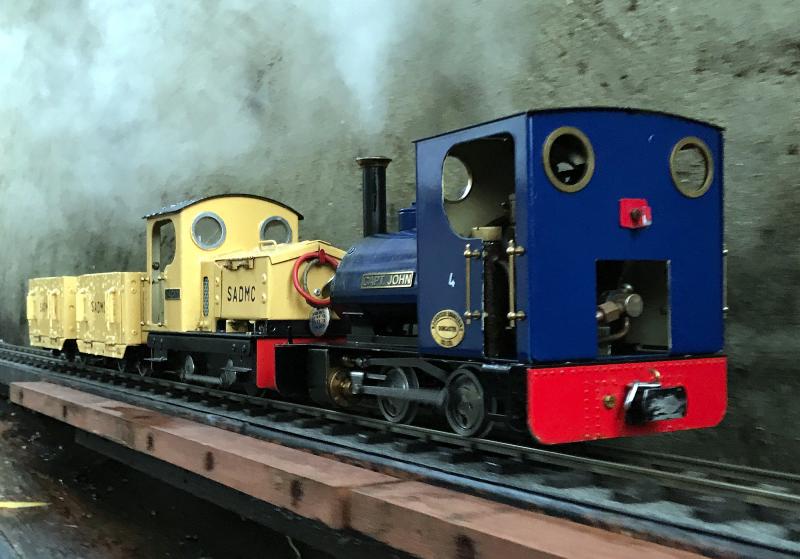 Capt.John and Jackie climb Greenbanks incline with copper empties (click image to enlarge)